Home EV Charging Problems in Rochester
Common Issues with EV Chargers in Monroe County & Surrounding Areas
Vehicle charging is a crucial concern among new electric car owners, whether plug-in hybrid (PHEV) or full electric (BEV). Car manufacturers and dealers don't always provide accurate or detailed information about charging – and they know next to nothing about your home. Some even suggest that a standard 120-volt electrical outlet is all you need. Unfortunately, it's not so simple. Here are the two biggest issues we see with delivering fast, safe EV charging at home.
Please contact Mike Williams Electric at (585) 286-5124 for all your home EV charging needs.
Common Issue #1: 120-Volt Circuits (Level 1)
Fact: Level 1 charging is slow. For a full EV with a low battery, charging can actually take days. And with many EV's, that's all the car comes with.
Fact: Even standard outlets are not all created equal. Even in newer homes, garage outlets can be fed by a lightweight circuit, shared with other outlets. This can cause serious problems when charging an EV, with real potential for electrical fires. It's usually in the fine print of the owner's manuals: At a minimum, any standard outlet used for charging a vehicle needs to be on a dedicated 20-amp circuit, not shared with any other outlets or lights.
Common Issue #2: A new kind of Electrical Load
Fact: Fast, safe home charging for EV's requires Level 2 (240-volt) charging, with a properly installed line.
Fact: Chargers for electric cars are different than almost anything else in the home. EVs charge at "full speed" from start to finish, usually for hours. That's called a "continuous load," and in most homes, there's nothing else like it.
Even with an electric stove, or a clothes dryer, or a water heater, the amount of electricity used fluctuates. Like nearly everything else in a house, these are all "non-continuous loads."
In a home with wiring issues, a continuous load like EV charging can cause serious problems – whether Level 1 or Level 2. That's why the National Electrical Code (NEC) has a number of special requirements for wiring for continuous loads: they all add up to safety.
The experienced professionals at Mike Williams Electric are dedicated to helping electric vehicle owners get fast, safe EV charging at home, in Rochester, Monroe County, and surrounding areas.
"Mike made sure we were up and running with home charging as fast as possible. His staff was always prompt, courteous, and responsive to our needs."

Anna P.
Solving EV Charging Problems
We have deep experience finding fast, safe, affordable options for EV charging at home. It takes creativity sometimes, but our estimators and technicians can provide you with the best, and safest, charging setup for your electric car.
Our proposals are based on at least three important factors:
The vehicle – Charging capabilities and requirements vary, depending on the make, model, and type of your vehicle.
Location (panel and car) – Important factors here include the distance from panel to garage, the degree of difficulty, and whether the garage is attached or detached.
Your electrical system – We will evaluate the capacity and overall condition of your electrical system to identify any concerns and any additional work necessary.
Our licensed electricians can come to your home to evaluate your home EV charging situation. After we have performed an inspection, we'll explain any problems and talk over the options. And we'll provide a free estimate for any work that is needed.
If you are having a home EV charging problem, call (585) 286-5124 to schedule an appointment.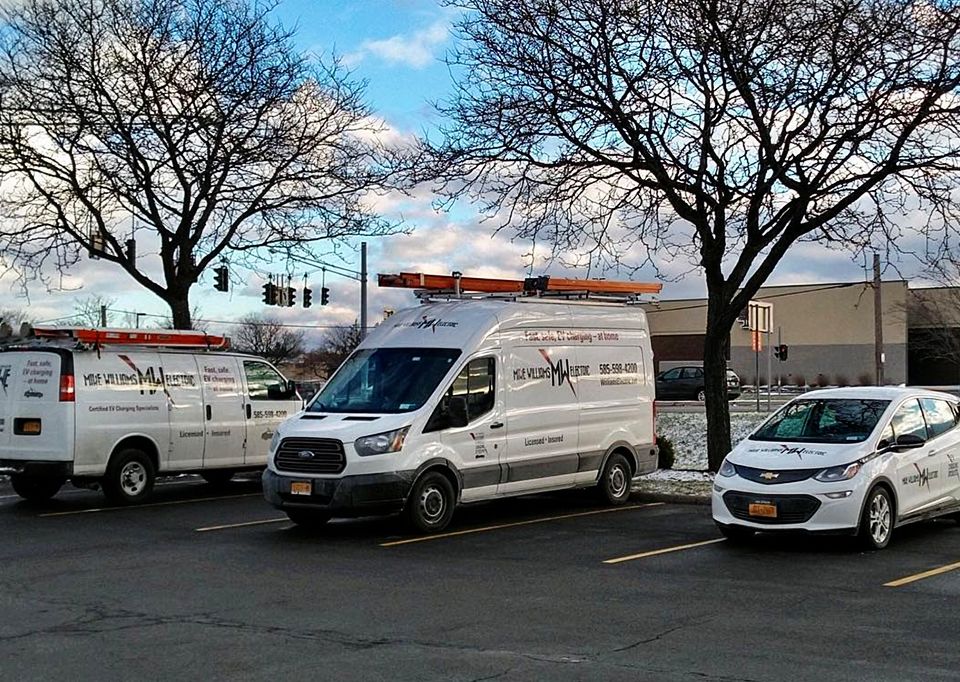 Ready to Get Started?
Contact our highly skilled electricans today and make the switch to EV with ease!
WHY CHOOSE MWE?

Fast & Safe Commercial & Residential EV Charger Installations
Eco-Friendly

We take climate change seriously. A commitment to electric vehicles, and moving to electrification and to sustainable, renewable energy, is an urgent necessity. At Mike Williams Electric we're doing everything we can to stop burning fossil fuels, and we're passionate about helping as many people as possible take the same steps forward. It's action today, but it's all about the future.

Knowledgeable & Skilled

We are licensed and trained to work on all major brands of electric vehicle chargers. We specialize in Home EV charging installation in particular, and electrification technology installation in general.

Customer-Focused

With well over 100 5-star reviews on Google, we will be in and out of your home or commercial property on time and leaving your space cleaner than we found it.

Safe

Fast charging circuits can put serious stress on your home's wiring and service panel, no matter what model of car or what brand of charger. Safety comes first, always. Our EV charging specialists will review the car and the charging system you're considering. We'll assess your home for any possible wiring issues. And we'll make sure you're ready with the right power and a safe installation.