Electric Car Charger Installation in Rochester
Licensed Electricians Serving Monroe County & Surrounding Areas
Do you need an EV charger installed? At Mike Williams Electric, we specialize in EV chargers. We can help you consider your charging requirements, the ideal location for your EV charger installation, and any upgrades that are needed for your electrical system. Our technicians are skilled at EV charger installation in Rochester, Monroe County, and surrounding areas and our work is fully compliant with all building code requirements.
Please contact us at (585) 286-5124 for more information about our electric car charger installation services.
Planning for EV Charger Installation
The first step in planning for an EV charger installation is an evaluation of the electrical system and load calculation. The inspection should be performed by a properly licensed and qualified electrician. We will assess the overall condition and capacity of your electrical system and conduct an existing load calculation according to the requirements of the National Electric Code (NEC) to determine the available capacity.
Once we have evaluated your electrical system, the next step is to choose the location for your electric car charger installation in Rochester. The distance and path from the panel to the outlet location are important. In the case of a detached garage, upsizing the lines that feed the garage may be necessary to supply power to the charger.
Selecting the Right EV Charger
When you purchase an electric vehicle, you will need to make decisions about how you will charge it. Public charging stations are not always convenient or cost-effective. There are a few different options available for EV charging stations for residential and commercial applications.
Electric car charger options include:
Level 1 – This is the type of charger that is included with electric vehicles. Level 1 chargers require a 120 volt, 20 amps circuit, which is the typical residential electric service. It takes up to 24 hours to fully charge a battery on this type of charger.
Level 2 – Most homeowners choose a Level 2 charger for faster charging. Installation requires a dedicated 240 volt, 20 to 80 amps circuit. It takes about 6 to 8 hours to fully charge an electric vehicle on a Level 2 charger.
Level 3 – These charging stations are used for commercial applications. They are the fastest and capable of fully charging a vehicle in 25 minutes to 2.5 hours.
The best charger for electric vehicles depends on the requirements of your vehicle and the home electrical service capacity. We can evaluate your needs, go over your options, answer any questions, and help you select the right charger and outlet for your Rochester electric car charger installation.
"Mike made sure we were up and running with home charging as fast as possible. His staff was always prompt, courteous, and responsive to our needs."

Anna P.
Professional Installation
Your electric car charger installation will be performed by a fully licensed and experienced electrician. We focus entirely on EV chargers, and all installations are completed according to the most current building and electrical codes. The cost of the installation will vary, depending on the type of charger and any electrical system upgrades that may be needed. We offer free estimates for EV charger installations.
Get in touch with us today at (585) 286-5124 to request a free estimate for your electric car charger installation.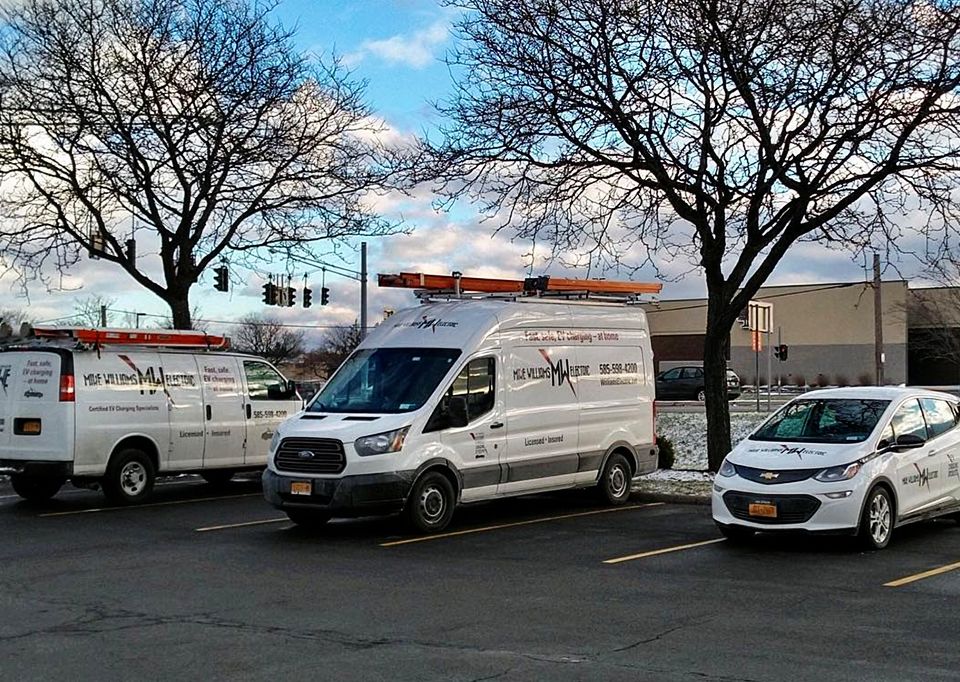 Ready to Get Started?
Contact our highly skilled electricans today and make the switch to EV with ease!
WHY CHOOSE MWE?

Fast & Safe Commercial & Residential EV Charger Installations
Customer-Focused

With over 60 5-star reviews on Google, we will be in and out of your home or commercial property on time and leaving your space cleaner than we found it.

Safe

Fast charging circuits can put serious stress on your home's wiring and service panel, no matter what model of car or what brand of charger. Safety comes first, always. Our EV charging specialists will review the car and the charging system you're considering. We'll assess your home for any possible wiring issues. And we'll make sure you're ready with the right power and a safe installation.

Eco-Friendly

We take climate change seriously. A commitment to electric vehicles, and moving to electrification and to sustainable, renewable energy, is an urgent necessity. At Mike Williams Electric we're doing everything we can to stop burning fossil fuels, and we're passionate about helping as many people as possible take the same steps forward. It's action today, but it's all about the future.

Knowledgeable & Skilled

We are licensed and trained to work on all major brands of electric vehicle chargers. We specialize in Home EV charging installation in particular, and electrification technology installation in general.