EV Maintenance Program in Rochester
Benefits of Professional EV Charger Maintenance
At Mike Williams Electric, we want your electrical systems to perform optimally, so you can enjoy high-yield and energy-efficient power for as long as possible. That is why we are proud to offer an innovative EV maintenance program to properties throughout Rochester and the greater Monroe County area.
Our experienced electricians will perform maintenance every 12 – 18 months on your EV charging station, allowing you to feel confident in your system, rain, or shine. While maintenance might not be top of mind for people, it offers some surprising benefits.
5 advantages to maintenance include:
Allows our technicians to spot small issues before they become major repairs
Can save you money on energy bills by ensuring optimal function, reducing chances of overwork
Ensures compliance with certain manufacturer warranties
Boosts indoor air quality by minimizing dirt and debris buildup
Increases the usable lifespan of your charging station
Are you ready to schedule your maintenance? Call us at (585) 286-5124.
"Mike made sure we were up and running with home charging as fast as possible. His staff was always prompt, courteous, and responsive to our needs."

Anna P.
Get the Most Out of Your EV Charging Station with Mike Williams Electric
Our local company is driven to deliver the highest quality solutions to our community, and our maintenance program is no different. Unlike other companies that might just perform a visual inspection, you can expect a thorough service to help you get the most out of your station.
Our maintenance service includes:
Complete visual inspection
Diligent cleaning of the system
Tightening of any loose components
Adjusting components for optimal performance
And more!
With over 20 years of electrical experience, our team has seen and solved it all—and we continue to build on this expertise through continuous education on the latest industry advancements. This allows us to offer our customers the highest quality solutions possible, which translates to service that is quick, reliable, and detailed.
Our electricians are all highly trained and prioritize honest and transparent communication at every stage of service. This means we are happy to answer any questions you might have about your EV charger or support systems and walk you through the health of your charger, so you can make more informed decisions about your home's power. When you are ready to make the health of your EV charging station a priority, turn to Mike Williams Electric for high-quality annual maintenance. We service properties throughout Rochester and surrounding areas.
To learn more about how our program can help your EV charger, call our team at (585) 286-5124 or fill out our short online form today.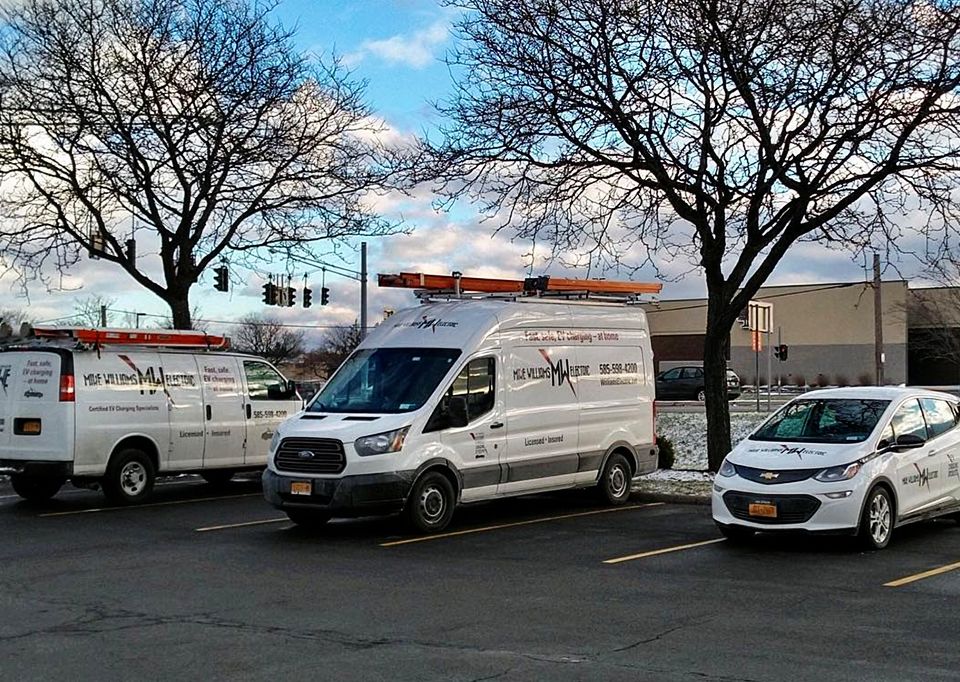 Ready to Get Started?
Contact our highly skilled electricans today and make the switch to EV with ease!
WHY CHOOSE MWE?

Fast & Safe Commercial & Residential EV Charger Installations
Customer-Focused

With over 60 5-star reviews on Google, we will be in and out of your home or commercial property on time and leaving your space cleaner than we found it.

Eco-Friendly

We take climate change seriously. A commitment to electric vehicles, and moving to electrification and to sustainable, renewable energy, is an urgent necessity. At Mike Williams Electric we're doing everything we can to stop burning fossil fuels, and we're passionate about helping as many people as possible take the same steps forward. It's action today, but it's all about the future.

Safe

Fast charging circuits can put serious stress on your home's wiring and service panel, no matter what model of car or what brand of charger. Safety comes first, always. Our EV charging specialists will review the car and the charging system you're considering. We'll assess your home for any possible wiring issues. And we'll make sure you're ready with the right power and a safe installation.

Knowledgeable & Skilled

We are licensed and trained to work on all major brands of electric vehicle chargers. We specialize in Home EV charging installation in particular, and electrification technology installation in general.